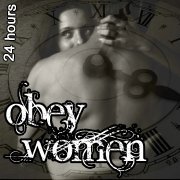 All Charlotte Gray's free files are hosted here with her permission.
You may show your appreciation for her work by
sending her a gift
.
OFFICIAL SYNOPSIS
Obey Women – Female Supremacy Hypnosis

How would it feel, going out into the world knowing that you had no choice but to obey every order, request or demand from any woman?

Just imagine your workplace... Your home... Even the local supermarket, being compelled to follow any and every instruction given to you by a woman. Bring me coffee. Excuse me please. Can you get that file for me? Oh go fuck yourself! So many possibilities, they're really just endless, and you'll never know just what the day will bring, when operating under my devilish hypnotic command. ;)

A true taste of Female Supremacy for you my sweet, lasting a full twenty four hours. Get ready to obey!


This session is available for free.
If you'd like to make a small donation toward my erotic arts, you can purchase them through NiteFlirt by clicking the links below.
http://www.niteflirt.com/goodies/click/25490293-920973
PERSONAL NOTE (only visible to you)
You must
Log in / Sign up
Add a comment
Wow! Thank you Charlotte for a very interesting last 24 hours, I listened to this file last night for the first time. I'm new to hypnosis and quite honestly didn't really think this would have any effect on me at all but that couldn't be further from the truth! I can remember relaxing on my sofa with my headphones on as I starting to play this file yesterday evening, but after being told to close my eyes and concentrate on nothing for a few minutes the rest of the audio is a bit of a blur until I woke up about half an hour later. I thought I had just fallen asleep so I decided to go straight to bed and at this point I was completely unaware of the seed you had just planted in my mind.

The very first order I duly obeyed was the very first thing I did the next morning, I was woken up by my wife who was getting ready to go to work, she starts her job slightly earlier than me so she is always awake first and usually leaves the house before I get out of bed but this morning she was stressing that she was going to be late because there had been a hard frost over night and her car was frozen solid. I was still half asleep and rubbing my eyes at this point but I found the energy to jokingly say "what do you want me to do about it?, Go outside in the cold wearing just my dressing gown and start rubbing your car down?" Her answer was just a quick sarcastic "yes" but this response from her seemed to instantly trigger an uncontrollable desire in my mind to obey her instruction immediately and in the exactly way I had described. So that's exactly what I did, I got straight out of bed and my day started with me outside my home shivering in the cold weather, wearing nothing more than my dressing gown and slippers as I scrapped the ice off of my wife's car just because she jokingly told me to.

After I finished with my wife's car and she had left for work I remembered about how I'd spent my evening listening to Charlotte Gray's '24 hour obey Women' file the night before and I started to worry about what she might of done to me while I questioned if my actions first thing this morning really were a result of her hypnotic powers. It wasn't long before my fears were well and truly confirmed when I went to work and found myself being compelled to follow every single female instruction.

I won't bore you with all the details of the rest of my day but surfice to say I did obey every single order, request and demand from every single Women that I was in contact with from very small things like making drinks to buying a big expensive box of chocolates for all of the office ladies to enjoy just because one of them jokingly said that I should pay them all a 'chocolate tax' for making a silly mistake on some form that I filled in.

Thankfully nobody told me to go fuck myself, but looking back now maybe I'm a little disappointed that they didn't because I would have probably secretly enjoyed that :)

I really didn't know how you did it Charlotte but you well and truly moulded my mind to comply with your devilish commands and I'm humbly grateful for my 24 hour experience of Female Supremacy.

As my user name suggests as well as being a submissive male I'm also a closet cross dressing sissy and after experiencing your hypnotic control to obey all Women I'm now very tempted to listen to some of your feminization hypnosis too but due to the ease your seem to be able to control my mind I'm really scared about how far things might go. I think I will just listen to this file again for tonight so I can enjoy another day in submissive bliss obeying my Superiors.

Thanks again Charlotte, yours humbly

Sissy Shantell
Posted by Sissyshantell on Feb 12 2021 reply
Thank you Lady Charlotte for this file. It was my first listening to you, and I am captivated! I am anxious to go to work tomorrow and exercise the trigger suggestion you have given me. As a submissive man, it fits so well, releasing the desire to serve I already have!
Posted by Jame on Apr 27 2022 reply
Add a comment