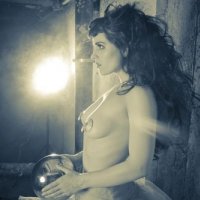 | | |
| --- | --- |
| | Audio |
OFFICIAL SYNOPSIS
Imagine - staring into my crystal ball and seeing a reflection. A reflection of someone your sure you know, yet something is altered. As time passes this alteration feels increasingly natural.

If you have already listened to 'magic word' you will already know that every time you return to my voice, your unconscious is going on a hunt to find healthy and blissful ways to automatically alter your behaviour and outlook. When you are listening to my voice and in a trance every day that passes, you feel better.

I predict a very pleasurable future for you. Dizzy pleasure and responding to my voice.

You find yourself compelled to return to my voice. Of course you do. Its just so captivating.

You find yourself fascinated by my crystal ball. My beautiful ball. My mesmerising ball. My ball of fortune. It has so much exciting stuff to show you.

You can be surprised to find yourself acting out a certain action whenever you have finished listening to this trance. With legs giddy and brain dizzy, a true realisation of the significance will only be realised later on. The surprise will come later.

Welcome to - Crystal ball. Prepare for a new chapter in your life.
PERSONAL NOTE (only visible to you)
You must
Log in / Sign up