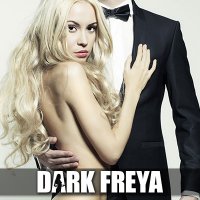 | | |
| --- | --- |
| | Audio |
OFFICIAL SYNOPSIS
In Dark Freyas "Clothed Female, Nude Male" or: CFNM you will expose yourself to your dream Mistress. She will turn you into an obedient little boy-toy! Beware: This femdom hypnosis will make you feel naked, submissive and vulnerable.

Be an obedient litte boy and become naked in front of your Mistress. You will learn to accept that clothed femals make the rules of all nude males. That's just the way it is and it will feel so good…


The true meaning of C.F.N.M.
In Dark Freya's new erotic femdom hypnosis "CFNM" or "clothed female – nude male", you will expose yourself to your dream woman, your Mistress. You will experience how submissive and controlled it will make you feel to be naked around dressed women. She will take complete control, and train you to become even more submissive. And in the future, whenever you're naked in the presence of a dressed woman and it's safe for you, you will become this submissive again, feeling completely exposed and vulnerable. Are you ready to go on this journey of control and submission and to be exposed to your dream Mistress?


This erotic hypnosis contains the following suggestions:
You will meet the woman of your dreams
She will be completely naked in the beginning, while you're completely dressed
You will dress her and she will undress you
You will be completely exposed in front of all women
No cumshot included
Only for femdom fans! After listening you will love the feeling of being naked and submissive!
PERSONAL NOTE (only visible to you)
You must
Log in / Sign up