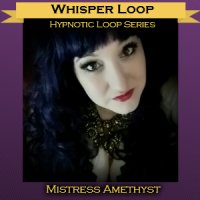 OFFICIAL SYNOPSIS
CREATE YOUR OWN MASTURBATION EXPERIENCE. Hypnosis loop where seductive whispers enslave your horny mind.

Notice how easy I seduce you into becoming my whisper slave.  Yum!

Several new loops are in the works and will be released as soon as they are ready.  Each file is perfect on its on or paired with others to create your own masturbation experience.

My whispers sink so deep within your mind, rendering you helplessly aroused with feelings of submissiveness.

Don't you love how I can whisper to you and these sensations naturally build within you?  Mmmm yessss, you love it.  Your mind lets go;  you get lost in my whispers;  feelings of submission fill you and arousal pulses within you.  You're such a weak and horny boy.... and I love that about you.

Use this loop on it's own to really amplify your arousal, or use within a playlist. When you listen to this loop, your horny body will be aching for release.


Features: 
Induction - No, but there is some wording for relaxation
Multi voice track programming / Layered voice tracks
Cum Command:  No
Fetish:  ASMR (NOT 3D), whispers, erotic hypnosis, FemDom
14 Minutes


CREATE YOUR OWN HYPNO MASTURBATION EXPERIENCE

Either stack the loops in an order of your choice OR create a Loop playlist and hit random baby!

Possible ways to use a playlist:

Put all the loops in a playlist roll the dice (1). Whatever # you get is the # of loops that you will listen to. If you get 1, then roll again to see how many time you will listen to that 1 loop. If you get 3, then you will only listen to the first 3 loops that play at random. Will an orgasm be part of it? Or will you end the game with blue balls?
Create a play list where you duplicate the titles. You might have The Edging Loop or one of the arousal building loops in there multiple times so that it comes up more than once.
PERSONAL NOTE (only visible to you)
You must
Log in / Sign up