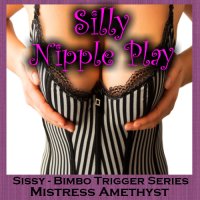 OFFICIAL SYNOPSIS
Deep Silly trigger trance where your sissy nipples will become oh so sensitive. The more you pinch them the more you giggle w/ pleasure FemDom Feminization

Rub & Squeeze... and get lost in the SILLY sissy pleasure

Wouldn't you love to have large, round boobs like mine?  They're just what a SILLY sissy like you would love to have;  nice, deep cleavage;  round firm breasts with very pleasurably sensitive nipples.

I'm going to guide you down into a deep trance, where your nipples will become oh, so sensitive.  Those horny, sissy nipples are going to become so pleasure sensitive every time you pinch them.  It will feel like a bolt of arousal shooting down your spine, right into your sexy sissy clitty.  It's going to feel so good you'll just gasp and giggle.

After all, a horny silly, bimbo like you, who loves to play with their clitty, just can't stop giggling when you get so turned on.

Pinch them and feel the pleasure.  Mmm  Yes... and every time, your giggly brain just goes blank.

Features: 

Silly Trigger
Multi voice track programming / Layered voice tracks
Awakening:  Post hypnotic suggestion to awaken after pleasure peaks
Cum Command:  Yes, through post hypnotic suggestion
33 Minutes
For BEST results, please listen to my FREE file:  Insatiably Silly

FemDom Erotic Bimbofication & Sissification hypnosis by Mistress Amethyst to render you mindless under her control.
PERSONAL NOTE (only visible to you)
You must
Log in / Sign up