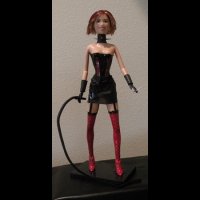 OFFICIAL SYNOPSIS
At My Command is my first erotic hypnosis session. It holds a very special place in my heart. I use several techniques with a fairly long induction. Once I have you deep under my control I implant a trigger into your subconscious. I have enjoyed using this trigger on my slaves and each time it is used, I get dramatic results. My slaves enjoy it too, quivering to orgasm when the implanted trigger is used. Men or women can enjoy this recording.

Time: 58 Minutes
Themes: Domination, Submission, Orgasm Enhancement. Contains dual tracks, background music and vocals, and binaural beats.
Download is 53.7 MB.
PERSONAL NOTE (only visible to you)
You must
Log in / Sign up