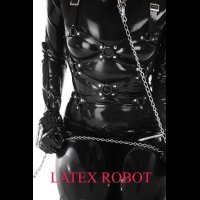 OFFICIAL SYNOPSIS
Slip on your headphones and let my silky voice drop you deep in trance with a smart conversational/confusional infused induction. Once in my control, you will experience what it is like to see your Mistress before you, covered head to toe in black shiny latex. But this latex won't be staying on my body. I shall transfer it to you and while transforming you into MY black shiny latex covered robot, my controlling tones will ensure you stay deep in trance and firmly in my control.

Effects include background music, backgroud vocals, controlling tones, binaural beats.
File size is 120 MB. File Length is 52:44.
PERSONAL NOTE (only visible to you)
You must
Log in / Sign up