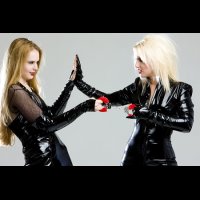 OFFICIAL SYNOPSIS
Domme Naughty, my flirty sexy side, teasing your body and causing you to swell or Domme Not So Nice, the demanding forceful take you and you use side; these are the two dommes you will find once you are deep in my domain. Once under my commanding control you wlll be introduced to these two distinct sides of my personality. You decide which one you will chose to get you off. Beware this recording involves all the tricks of the trade including binaural beats to put you in the position I want you in.

Themes: Domination, tease and denial, deep trance, Mistress control.
Effects include background music, background vocals and binaural beats.
File length is 37:30 and size is 85.8 MB.
PERSONAL NOTE (only visible to you)
You must
Log in / Sign up