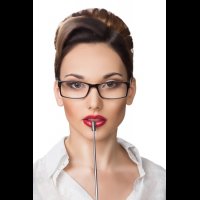 OFFICIAL SYNOPSIS
My sexy, sensual voice will take you into an ultra-deep trance where you can experience all that hard work you've put into your hypnotic education. My voice will gently wrap around your mind, seducing you into the deepest trance you've ever experienced. Pleasurable trance will make you feel so good and giving yourself to your Mistress is your greatest reward. You do not need to have listened to any previous "Schooled by Mistress" sessions to enjoy Extra Credit.

Themes: Deep hypnotic trance, sexual reference, seduction, sensual submission.
Effects: Background music, background vocals, binaural beats.
The session length is 44:27. The session size is 101 MB.
PERSONAL NOTE (only visible to you)
You must
Log in / Sign up