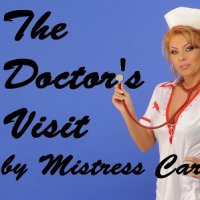 OFFICIAL SYNOPSIS
It is time for you to schedule a "Doctor's Visit". Cum visit me in my office, and make yourself comfortable and secure in my adjustable chair. With this visit I am going to take a cum sample from you, whether you want to give it or not. But don't worry my pet I will encourage you to release it for me. In fact between my encouragement and the milking machine, you will be glad you came.

Themes: Relaxation, hypnotic trance, loss of control, restraints, administration of sleeping control gas, milking machine use, Mistress's self pleasure.
Effects: Background music, background vocals, theta binaural beats.
PERSONAL NOTE (only visible to you)
You must
Log in / Sign up