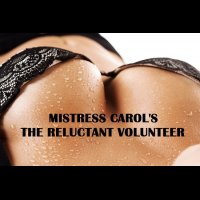 OFFICIAL SYNOPSIS
You find yourself at the Johnson Clinic, hypnotized and ready for your testing. With introductions complete and your vital signs documented, the clinical trial begins. Soon you are watching two gorgeous women enjoying each others' bodies, causing your monitor to soar to new heights. Your reaction is reaching the danger zone and you must be relieved of the massive pressure. Dr. Lisa Johnson knows just what to do to ensure no damage is done to her precious patient. If you enjoyed "The Gift" and "Blown Away" you will definitely enjoy "The Reluctant Volunteer". This is a stand-alone file and can be enjoyed with or without listening to "The Gift".

Themes: Hands free orgasm, women with women, blow job, medical clinic environment, gentle bondage. Effects: Background music, background vocals, drum beats, and binaural beats.
File length is 43:46 and file size is 100 MB.
PERSONAL NOTE (only visible to you)
You must
Log in / Sign up