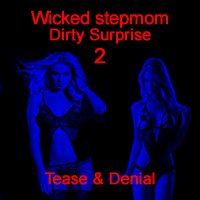 | | |
| --- | --- |
| | Audio |
OFFICIAL SYNOPSIS
This extremely horny wsm file will take you to the most deepest place of euphoria.
A fantasy file were wsm has a special friend who wants to play with you.
This 40 minute wsm file will leave you drenched in erotic hypnotic pleasure.
There are so many surprises in this file, all very horny surprises just for you.
You will enjoy going down enjoy how wsm seduces your mind in this intense erotic orgasmic file. Another tease and denial file

Categories: Masturbation, Tease & Denial, Wicked Stepmom
Tags: denial, dirty, erotic, hypnosis, intense, masturbation, nipple play, oral, pleasure, sex, tease, wsm

---
Other description:
Lay back relax let my voice take you down deep. Wicked dirty surprise Part two contains many dirty surprises that you will absolutely enjoy Will you go Deeper to that dreamy hypnotic place where nothing else matters at all. I know the sound of my stilettos has a deep profound effect deep inside your mind and here in this file even more. Are you ready to embark on a sensuous hypnotic journey and experience seduction by two horny hungry Goddesses. This fantasy file is filled with whispers and triggers that stimulate those places where you feel the most deepest pleasure. Are you ready to enjoy this 40 minute seduction. Step into my realm now! An erotic tease and denial file that will drive you crazy and still not let you come.
PERSONAL NOTE (only visible to you)
You must
Log in / Sign up