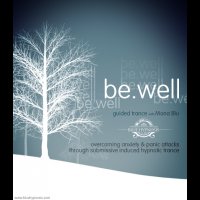 | | |
| --- | --- |
| | Audio No longer available for purchase |
OFFICIAL SYNOPSIS
A new approach to supplement those who suffer from stress, anxiety or panic attacks is the focus of Mona Blu's latest release "Be.Well" Taking a new direction in implementing dominance over those who are needing a more strict and clear guided method of relief of these ailments, Mona Blu has included very direct and influential dominance over the submissive towards overcoming these obstacles.

"you find comfort and great life alteration within trance. you find solutions and answers through guided hypnosis. you will do as I say, because I have your best interest in mind. Sometimes the biggest release is simply submitting."

Intensive & methodical induction using mild mind active countdown & associations. Crystal clear voice recording, dual layering and echo pan positive enforcement conditioning. Physical & visual exercises through hypnotic trance progression.

Total session time: 33 minutes

Ideal for all levels of practitioners.

This product was added to our catalog on Friday 02 January, 2009.
PERSONAL NOTE (only visible to you)
You must
Log in / Sign up