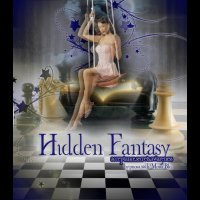 | | |
| --- | --- |
| | Audio No longer available for purchase |
OFFICIAL SYNOPSIS
"I know your deepest desires...the ones that you cannot stop thinking about. Listen to My voice and trust in My suggestions"
Hidden Fantasy 1 is a complete rapid induction fused with 4 layers of positive affirmation suggestions enticing the mind to submit to trance.

Best if used with headphones and left on a repeat pattern as the induction will repeat to continue to deepen your trance level. Do not use if needing to be awake, as a dreamlike state is likely to occur.

Best if used at night, when able to follow with a restful, peaceful slumber. Generic fantasy suggestions allow the imagination to wander and associate subliminally positive acceptance in accordance with the hidden fantasy of the mind.

Total Session Time: 25 minutes

Keywords: submit to the trance, dreamscapes, eye roll, relax the body, trust in hypnosis, follow my voice, deepest darkest secret, fantasy, unable to forget, slumber, soporific hypnosis

This product was added to our catalog on Tuesday 22 July, 2008.
PERSONAL NOTE (only visible to you)
You must
Log in / Sign up