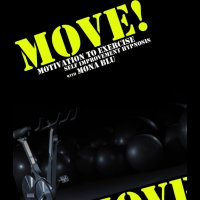 | | |
| --- | --- |
| | Audio No longer available for purchase |
OFFICIAL SYNOPSIS
You go to bed every night feeling more confident in your ability to do in life whatever it is you want to achieve - and you awaken each and every morning feeling relaxed and refreshed looking forward to your day ahead - throughout your day you feel enthusiastic and excited about exercising later - knowing you are becoming physically and mentally fitter through your own efforts...

And because all of these things will begin to happen - exactly as I tell you they will happen - more and more rapidly - more powerfully - and more completely.

MOVE! will begin to program your desire to want to exercise each and every time you listen, relax and allow the suggestions to float throughout your mind.

Ideal for the beginner, or anyone who wants a very general and relaxation-friendly hypnosis experience, to the advanced rapid induction practitioner who wishes to improve their daily exercise routine.

Total session time: 30:57

keywords: exercise, using hypnosis to want to exercise, hypnotic exercise motivation, increase desire to excercise

This product was added to our catalog on Friday 22 June, 2012.
PERSONAL NOTE (only visible to you)
You must
Log in / Sign up