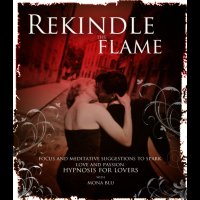 Rekindling the Flame - Hypnosis for Lovers

by

Mona Blu

Audio No longer available for purchase
OFFICIAL SYNOPSIS
Hypnosis for Lovers allows either partner or both parties to focus and meditate on the positive, loving and electrifying emotions and feelings that once sparked the flame! With a relaxing visualization induction, color room sequencing to associate emotion and passion, you will be guided to focus, memory and positive affirmations to consistently admire, adore and nurture your existing relationship...regardless of gender or committment level. A truly gracious, relaxing and intoxicating meditative experience for the beginner to seasoned meditation and hypnosis practitioner.

"And just for a moment I want you to allow your mind to drift back to the very beginning of your relationship and remember those wonderful feelings that you had for each other. ..."

Total session time: 31:48 minutes

Keywords: passion, rekindling love, hypnosis for lovers, relationship affirmations, meditation for lovers, couples hypnosis

This product was added to our catalog on Tuesday 19 June, 2012.
PERSONAL NOTE (only visible to you)
You must
Log in / Sign up