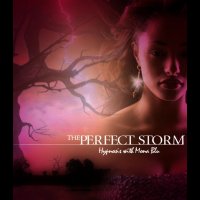 | | |
| --- | --- |
| | Audio No longer available for purchase |
OFFICIAL SYNOPSIS
The Perfect Storm...
and i wonder if you can just imagine a dark cloud-like essence caressing the bottom of your foot and drifting up your calve. seductive and mysterious. and yet, you feel no inclination to resist this alluring effect...simply allow the essence to drift up...lazily and provocatively...moving slowly, methodically.

The ideal listener of The Perfect Storm will be male, submissive and in a relationship with a significant other. Using fantasy HLP (hypnotic language pattern), The Perfect Storm will take you under, cloud your vision, and dictate Mona Blu's trigger words for both parties in your relationship. Both women and men will submit to the trance. Results are positive affirmations within a submissive context. Relaxation, escapism and a surrender to fantasy is suggested for this session to be most effective. Not for the novice practitioner.

Use caution when listening to this, or any hypnosis recording

Total Session Time: 29 minutes

Keywords: trance, submit, let go, rhythm of trance, languid, fluid, empty, mindless, subconscious, slave to hypnosis, hypnotized.

This product was added to our catalog on Tuesday 22 July, 2008.
PERSONAL NOTE (only visible to you)
You must
Log in / Sign up