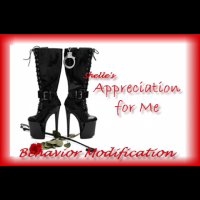 OFFICIAL SYNOPSIS
your submission is your COMPULSION...

Level: Powerful
Length: 30 minutes
Category: Brainwashing-Mind Control

your COMPULSION:

I am well TRAINED as a MASTER mind MANIPULATOR...TRUST ME. I know exactly what I'm doing. Just OPEN up, fall for ME. your submission is your COMPULSION.
Remember, REPETITION is the law of hypnosis.

Another step in your Behavioral changes....yes, sexy HARD changes... MORE MIND F*CKING!!!
I will hypnotize you, take you deeper into My control and ADJUST your way of thinking.

you will find yourself so much more submissive and your mind open and so persuasive. I will easily slip inside, I will take over and leave you helpless and unable to resist.

Don't worry, BEHAVIOR MODIFICATION has its rewards.
PERSONAL NOTE (only visible to you)
You must
Log in / Sign up