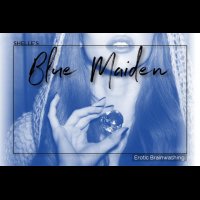 OFFICIAL SYNOPSIS
Level: Hard
Length: 22 minutes
Category: Sexy-Brainwash-Mind Control-CONFUSION

Come to Me, kneel at the feet of Her Blue Majesty.  She uses Her beauty and magical words to pull you closer than before.  She will seduce you into a deeper trance and wreck your mind with Her thoughts.  This file will touch your HEART, your mind and bring you amazing arousal.

Converting your thinking.
Guiding you to your perfect place, adjusting your priorities.
She will establish your role and command your service.
You will be Her loyal and committed slave....The further your training progresses the greater My control flows through you, so naturally.
Her words captivate you as Her wicked ways play with your mind.

Don't miss this, one of My most BEAUTIFUL pieces of work.

This file has a mixture of CONFUSION and Subliminals---enhancing your trance and deepening your submission.
PERSONAL NOTE (only visible to you)
You must
Log in / Sign up