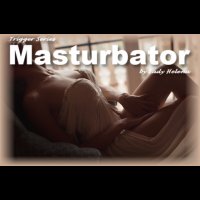 OFFICIAL SYNOPSIS
Lady Helena's "Masturbator" ...

Masturbator by Lady Helena--Shelle's slave girl

Description (32 minutes):

What is the extent of your Lady's control over you my darling slave? Is it just Me exerting my dominant will and supreme authority over you whenever you are in my presence. Or is my autocratic control more substantial, more profound, more fundamental than your submissive mind is capable of understanding?

Well my darling slave, as promised, I have created a session that will demonstrate the full extent of your Lady's control and authority over you, and your sex. With a single trigger word your inferior mind will be compelled to obey my powerful post-hypnotic directive no matter where you are or who you are with!

Yes my slave, this is unadulterated control, total subjugation of your will with no consideration of your predicament when you are triggered (hehehe). As your Dominatrix I have the absolute right to dominate and humiliate you whenever I want and wherever you are! As my loyal obedient subject you are compelled to obey my commands without thought and without question, and in return you will feel the ecstacy of submitting to My authority, with an ever increasing desire to become even more subserviant to Me, the Mistress who owns your sex.

So my darling, prepare to enter a very relaxing, and extremely deep, trance where I will dominate your senses, subvert your resistance and reprogram you to do My bidding at My command. You know this is what you need, and deserve, and through your subjugation you will reach new heights of servitude to me, your Lady Helena.

NOTE: to experience the full impact of this session it should be listened to daily for at least 21 days.
PERSONAL NOTE (only visible to you)
You must
Log in / Sign up