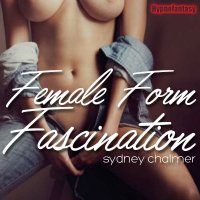 OFFICIAL SYNOPSIS
There is something utterly irresistible about the female form. No man can deny that. Every woman has her own beauty, charm, sexiness. From the parting of her lips with wetness to the hotness trickling down her nape when she sweats; each crevice is something to hunger for.

After her disarming Harem Series, Sydney Chalmer re-releases Female Form Fascination and makes a great session even better! Sydney comes back with a new beautiful, very intimate session that not only involves sheer pleasure but demonstrates a more profound appreciation and respect for the woman's body. You may have different experiences with a woman, how you've consumed her juicy parts, how you've touched the softness of her erotic zones.

Female Form Fascination is a session from Hypnofantasy that every man should experience. If it's your first time trying hypnosis, this session with Sydney Chalmer is going to be a milestone – something that will not only awaken your sexual urges but also your perception for beauty. Go deeper with her – into the realms of female domination (that is not only about strength and power but shrouded with tenderness and suggestive teasing).

With her mesmerising erotic voice and presence, Sydney eases you into the session with some gentle teases and whispers. Your fantasy of this entrancing woman will steadily begin to increase as Sydney sets the mood.  As the session slowly unfolds, the powerful, yet beautiful energy from her voice will flow into your mind, down into your body, surging purposefully down to your cock. With her guidance, you'll enjoy an enlightening experience through the power of hypnosis.

Within minutes her voice and words will allow you to fully embrace this awakening and appreciation of the sensual female form. With enhanced senses you'll breathe in the heady scent of her thighs, taste the sweetness of her sap, feel the softness of her slice and appreciate the lustrous shade of her skin.

You'll awake feeling rejuvenated and more excited than ever before; and deep within you'll acknowledge a new fire and energy, fuelled by appreciation and respect, ready to be unleashed at any time.
PERSONAL NOTE (only visible to you)
You must
Log in / Sign up