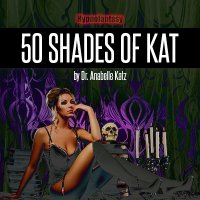 OFFICIAL SYNOPSIS
Take a walk on the wild side with Dr. Annabelle Katz and allow her to blow your mind and tickle your senses. Reconnect with your sexuality and learn how to let go as your mind travels to a sweet and sexy place where you live out your wildest dreams. This intense, erotic experience will make you feel strong, virile and in control - as you control Dr. Annabelle.
This mind-blowing session is filled with erotic imagery as Dr. Katz takes you on a private journey to her playroom where her alter ego Kat comes out to play. Kat's one and only goal for the session is to help you let go of your inhibitions as she coaches you and helps you be a better man - a sexy, strong and incredible man.
Feel what it's like to get rock hard and tie up the doctor as she allows you to do naughty things to her. Dr. Annabelle has a private secret that you will soon discover as you travel with her on this erotic journey into your subconscious mind. This session will supercharge your confidence and sexuality as you stroke yourself into a frenzy of excitement.

This session will leave you feeling like a man and asking for more - as you tease, touch and torture sweet Kat with your manhood. Play along with Kat as she uses her tongue to teabag you and cajole you into an intense orgasmic experience where she takes in every last delicious drop.

The ultimate in hypnotherapy - this session will leave you begging for more and make the women in your life crave your newfound confidence and sexuality.
PERSONAL NOTE (only visible to you)
You must
Log in / Sign up