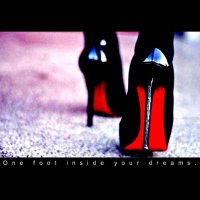 | | |
| --- | --- |
| | Audio |
OFFICIAL SYNOPSIS
One foot inside your dreams.

Incorporates - foot fetish, obedience enhancement, dream alteration, subtle lifestyle adjustment.

Does NOT include - humiliation, feminization, public exposure, financial domination.

Multi-layer, advanced FX, high end male submission programming.

THEMES – Foot worship, red toe-nails, obedience, domination, life behavior modification, amnesia, female authority, conditional chastity (an action of service must be performed in order to reach orgasm).
HUMILIATION – Very mild.
POST HYPNOTIC SUGGESTION(S) – Yes. To desire what female partner desires. Addicted to color red.
IN TRANCE GUIDED FANTASY – Intoxication fantasy.
ORIENTATION – Heterosexual (this file is designed for males who desire females)
WARNINGS – Might include suggestions to crave Miss Mary's trances and programming.
SAFETY NET – Basic. For best effect and peace of mind I strongly recommend you pre-train with the Dejavu Series.
PERSONAL NOTE (only visible to you)
You must
Log in / Sign up