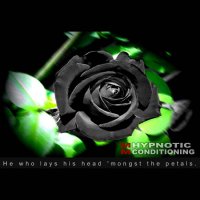 | | |
| --- | --- |
| | Audio |
OFFICIAL SYNOPSIS
He who lays his head 'mongst the petals.

Fascinating black rose - deep and dark, powerful aroma. Sitting suspended in the garden of obedience.

Chastity enhancement and trigger installation.

Featuring deep utilization of the unconscious triggers installed in 'Locked and aroused' and the Dejavu series, this 60 minute, multi fx session is possibly the most advanced and intense session i've released to this date.

It can even be enjoyed standalone, if you have yet to train with the said sessions.

Full length, multi-track erotic hypnosis training and enhancement file (64 minutes)

THEMES – Chastity, branding, amnesia, magical garden, female superiority, dark flowers.
HUMILIATION – Possible mild humiliation.
POST HYPNOTIC SUGGESTION(S) – Yes. Prevent orgasm via masturbation.
IN TRANCE GUIDED FANTASY – Some.
ORIENTATION – Heterosexual (this file is designed for males who desire females)
WARNINGS – Might include suggestions to crave Miss Mary's trances and programming.
SAFETY NET – Basic. Orgasm via sexual intercourse with partner should be unaffected For best effect and peace of mind I strongly recommend you pre-train with the Dejavu Series.
PERSONAL NOTE (only visible to you)
You must
Log in / Sign up