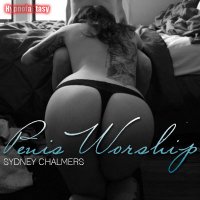 OFFICIAL SYNOPSIS
Ladies, why not let Sydney Chalmer lead you down the path to excellence in Penis Worship.  This erotic hypnosis session is based on the wonderful writing of The Passionate Wife and has been "The Passionate Wife" approved.

So if you need motivation, subtle reminders or just plain want to romance your man's sex with more excitement and desire then listen to Penis Worship and become a lover, believer and advocate of Erotic Hypnosis for Penis Worship.

This is a sesson that creates more desire and more intimacy when you are giving your lover oral pleasure.  It is full of positive suggestions that excite you and arouse you towards the idea of giving your lover oral pleasure more often.  Listen to this erotic hypnosis session 2-3 times a week for a few weeks and you should find your need to Worship your Lovers Penis to grow to a heightened level.

Enjoy that newfound you!
PERSONAL NOTE (only visible to you)
You must
Log in / Sign up