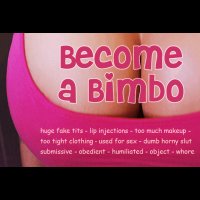 OFFICIAL SYNOPSIS
This Femdom hypnosis file will turn you into an actual female bimbo in real life. You will feel your bimbofication take place during this session, and each time you listen to it, you will become more of an extreme bimbo. You will be taught the primary elements of being a bimbo, and you will be programmed to think and behave as a horny female bimbo at all times. You will find yourself taking all actions required to become more of an actual bimbo in real life, because you will finally realize that being a bimbo is truly what makes you happiest. You will also be taught to enjoy erotic humiliation, both public and private. You will love being called a "dumb slut," and basically doing anything to entertain and amuse your superiors.

The definition of "bimbo," for this session, is a horny, slutty female who is air-headed and ditzy. A bimbo is very concerned with her looks, and always wants to look as slutty as possible. She is hungry for cock in all holes, is submissive and obedient, and loves being humiliated.

Includes: erotic hypnosis, femdom hypnosis, feminization, bimbofication, whorification, breast expansion, crossdressing, cock sucking, humiliation, verbal abuse. 37 mins.
PERSONAL NOTE (only visible to you)
You must
Log in / Sign up