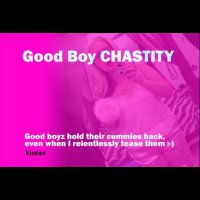 OFFICIAL SYNOPSIS
This tease and denial audio file is based on a request:

"...if I can make a suggestion could you make a "good boy" tease and denial stroking MP3? I love to be a good boy for holding my cum in my full achy blue balls for my Mistress."

So, here is my absolutely HOT interpretation of this request! Be sure you have a soft object or fabric to tease your genitals with at my command, as well as some lubricant.

Includes: guided masturbation, tease and denial, orgasm denial, chastity, kissies, fetish development (for a soft object/fabric), sweet and condescending Mistress, being called a "good boy."
PERSONAL NOTE (only visible to you)
You must
Log in / Sign up