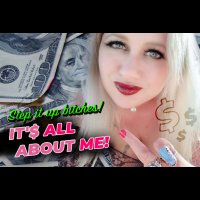 OFFICIAL SYNOPSIS
My Wallet Domme account has been up for years, and still no "goodies?" Time to change that!

Here's a downloadable MP3 that tells you what Wallet Domme is all about. Here, I am WALLET DOMME, not "Goddess Lycia." And I am pretty sure I am smarter than her (through as you know, she's really fucking smart).

WALLET DOMME just knows how incredibly complacent you have become as "slaves" and "submissives" over the years- -always expecting tons of erotic entertainment for as little money as possible, if not for free. WALLET DOMME knows this happened because you susceptible IDIOTS were made even more stupid by modern society and technology.

You were already stupid, but now you're more stupid than ever- -verging on useless. It's actually really pathetic. Do you really want to be a self-entitled, pussy-ass, sorry excuse for a beta male? Beta males used to have purpose! Now they're almost all just wankers.

So WALLET DOMME is here to remind you why the FUCK you are here. You are here because you need to fucking SERVE a dominant woman. You need to legitimately submit, and give me what I want. Which is MONEY and SERVICE, dumbass. Lots and lots of both.
PERSONAL NOTE (only visible to you)
You must
Log in / Sign up