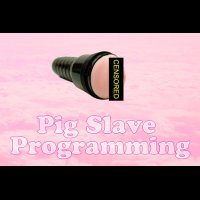 OFFICIAL SYNOPSIS
In this Femdom trance session, Goddess Lycia makes it impossible for you to ever diddle on your own. Instead, you will be able to make squirties only when being diddled by a woman's hand, or by being directed by a woman to use an object as a substitute for her hands. You also must be paying the woman who is diddling or directing. In this audio session, you are always referred to as either "pig slave" or "piggie."

You are put into a trance that freezes your body, so you cannot move. This makes it so that you are more submissive, vulnerable, suggestible, and controlled. You are then informed as to why you must accept my suggestions; you want to please me and other dominant women, and we will all be pleased to know you are obeying. By accepting my training, you are demonstrating that you are obedient, and that you adore me as you should. You are taught that is it wrong and selfish to squirt by diddling your own penis; it is disrespectful to women because it robs us of the money that you must always pay in order to squirt, and it prevents us from the amusement of listening to and/or watching the degrading squirt which is extracted from your silly thingie. Piggie must learn to need and love the experience of extreme shame and humiliation it feels when squirting in the presence of a woman.

Again, this session makes it so that you may achieve squirties only if 1) you are paying a woman to squirt, either in person, on the phone, or online, and 2) you are dependent on a woman's direct involvement, either from being stroked by her actual hand or by a surrogate hand (e.g. a plastic doll, a fleshlight, or even rubbing against the floor). In other words, piggie's ability to orgasm becomes completely dependent on a woman virtually or literally diddling its thingie. From this point on, piggie will feel a strong desire for a woman's hands or a surrogate, but never for her pussy, ass, or mouth, or even his own hand.

Additionally, whenever your thingie is in contact with a woman's hands or virtual hands, you will feel an uncontrollable compulsion to grunt like a pig, throughout the stimulation. To be able to actually squirt will require her permission. If she gives her consent, you will be highly compelled to squeal like a pig as you climax, right there in her presence. This squirting in the presence of a woman will be so humiliating that you will feel compelled to repeat it over and over.

Includes: erotic hypnosis, femdom hypnosis, femdom trance, mesmerism, mesmerizing, humiliatrix, humiliation, forced exhibitionism, orgasm control.
PERSONAL NOTE (only visible to you)
You must
Log in / Sign up