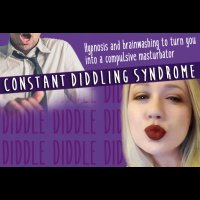 OFFICIAL SYNOPSIS
This is a Femdom hypnosis audio session that will turn you into a compulsive masturbating pervert, who is also humiliated about the fact that he's a compulsive masturbator. Your life, from now on, will revolve around your need to play with your genitals as often as possible. When you are in public, you'll have to find nooks and crannies to secretly diddle in. It doesn't even matter if you cum or not, you just have to be fondling yourself as often as possible, because that's that best feeling in the world. You will choose masturbating over any other possible activity, which will turn you more into a perverted weirdo who can never escape his addiction. Haha, sweetie; you're going to buy this and it's going to WORK. Welcome to CONSTANT DIDDLING, LOL.

Note: This is an excellent companion file for "Compulsory Cum Tax!"

Includes: femdom hypnosis, brainwashing, mind control, compulsive masturbation, humiliation. 25 mins.
PERSONAL NOTE (only visible to you)
You must
Log in / Sign up