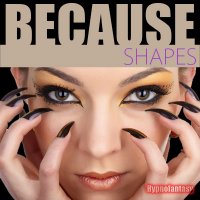 OFFICIAL SYNOPSIS
This session is will teach you that "anything is possible" under hypnosis.  It prepares you for the Nice & Naughty session and ultimately for my  upcoming session "RAPTURE".  Rapture will be the ultimate hands free orgasm session that so many of you have requested.  You may consider SHAPES a conditioning session that will lead you to RAPTURE.

Shapes could be considered "vanilla" in nature but that is just on the surface.  The potential of this session is UNLIMITED.  You do not have to be familiar with the rest of the Because series to enjoy this session but doing so will make it that much more effective.

If you enjoy the Because series then SHAPES Is a must.  If you are interested in experiencing my version of RAPTURE then SHAPES is a must.
PERSONAL NOTE (only visible to you)
You must
Log in / Sign up