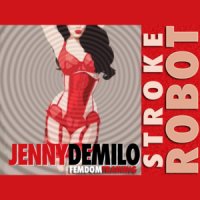 OFFICIAL SYNOPSIS
Stroke Robot – JOI/Goddess Worship Hypnosis by Jenny DeMilo

Your training begins now with this instruction. This is a guided JOI masturbation session and I expect all my instructions to be followed to the letter.
You will become an edging maniac a real stroke robot with my detailed instructions. Addicted to your mistress misses of turning you into a pool of edging bliss.
You will find the more you listen and follow my commands the more addicted you become! Not just to the never ending stroking edging compulsions you feel in your mind and body but to your Mistress who is slowing and diligently turning you into her stroke robot. With every stroke of your cock you fall deeper into addiction and adoration to your mistress and your fetish. You are a hopelessly addicted stroke robot.

Includes: JOI, guided masturbation, jerk off instructions, edging, goddess worship, triggers, trance training, sub training, mental domination, female dominance.
PERSONAL NOTE (only visible to you)
You must
Log in / Sign up