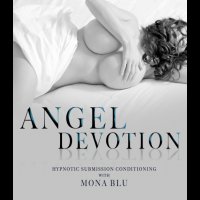 | | |
| --- | --- |
| | Audio No longer available for purchase |
OFFICIAL SYNOPSIS
Using a hypnotic technique called "anchoring" through meditation and physical acts, post hypnotic triggers can be enforced whenever you like. In this guided medititation and devoted adoration session, you welcome your submission, welcome the seductive domination, welcome the feelings of serene hypnotic relaxation as you allow your mind, soul and heart to fall obedient!

Total session time: 30 minutes

Music - yes

Keywords: Angel, angelic, obedience, falling, thumb, trigger, post hypnotic, worship, adore, Mona Blu, goddess, domination, realm, hypnosis, deep trance.

This product was added to our catalog on Tuesday 04 September, 2012.
PERSONAL NOTE (only visible to you)
You must
Log in / Sign up