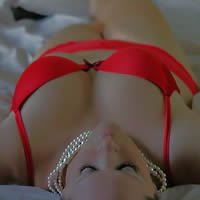 OFFICIAL SYNOPSIS
A dreamy hypnotic feminization file. Laced with arousing whispers, Mistress takes you to that dreamy feminine place. A hypnotic place were you will be dressed in that sexy red corset dress, silk stockings and those sexy red silk panties. Her whispers take you deeply into hypnotic bliss. This 36 minute file is deeply erotic full of triggers that deepen your feminine arousal. Will you surrender to pleasure.

Tags: corset, erotic, feminine, feminization, hypnotic, lipstick, masturbation, nipple play, panties, sensuous, silk, stockings

---

Let your male mind go to sleep just for a while feel this feminising file take you to a dreamy feminine place drifting deeply as you listen to my voice I will take you on a journey of the most exquisite feminine bliss You can fall so easily so lost in each whisper so feminine as you go deeper. Come with me on an exquisite journey of feminine pleasure. Will you drink the magic potion making you feel more feminine compelled enchanted as I feminise you more 36 minutes of hypnotic feminising orgasmic bliss.
PERSONAL NOTE (only visible to you)
You must
Log in / Sign up