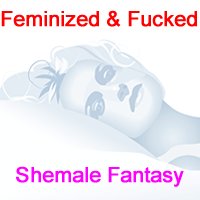 | | |
| --- | --- |
| | Audio |
OFFICIAL SYNOPSIS
Feminised and fucked
Here this erotic feminising audio will take you on a journey of exquisite feminizing pleasure.
A deeply sensuous and very sexual hypnotic audio.
Do you fantasise about a sexy sensuous shemale taking you?
Your here because you want to feel more feminine, you want to feel how good it feels to be fucked by a shemale.
Aromas fill your mind as you go deeper and deeper in lust.
So feminine and so very horny, this thirty eight minute file will make you feel so feminine and you will enjoy this compelling sexual arousal.
Can you imagine feeling more feminine, this softly sensuous audio will give you all of this pleasure and more.
Soft whispers, soft sexual moans of pleasure will make you want more.
Step into this deeply erotic feminine place now, and feel how good it feels to be more feminine, feel her cock take you into euphoria now!

Categories: Fantasy, Feminization, Masturbation
Tags: dreamy, euphoria, feminine, feminization, feminized, hypnotic, kiss, masturbation, mindfuck, nipple play, oral sex, pleasure, sex, sexual, shemale, surrender, tease, triggers


---
Other Description:
Do you fantasize about shemales? This is a deeply hypnotic pleasurable file if you enjoy been feminised. This fantasy erotic file is extremely explicit yet very sensuous. This file has never been published on NF. However it was another exceptionally popular feminising file on my other website. If you fantasize about shemales then you really will enjoy this fantasy. Whispers surround you as you drift deeper. Your feeling more and more feminine wanting to go deeper wanting to be fucked by this gorgeous shemale. This thirty eight minute horny file will fill you with the most deepest pleasure, orgasmic bliss awaits you here.
PERSONAL NOTE (only visible to you)
You must
Log in / Sign up