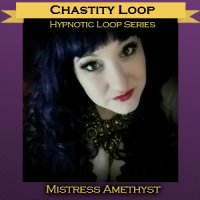 | | |
| --- | --- |
| | Audio No longer available for purchase |
OFFICIAL SYNOPSIS
CREATE YOUR OWN MASTURBATION EXPERIENCE. Hypnosis chastity loop - seductive commands control take control of you.

Let's face it - you need my control!

My control is what you need because you are a weak boy.  You are the type of boy, who is filled with lust and throbbing desires that make you want to touch yourself. You desperately need me to reign you in and calm the erotic storm that rages within you.

You need my enchantment to lock you into a state of chastity,  You need me to keep you nice and secure within the confines of my commands.  You are bound to my chastity spell. That's right, my boy!  You are deep, deeeep under my enchantment.

Several new loops are in the works and they will all have similar titles:  "A ___ Loop" and share the same cover photo.  This will indicate that they pair wonderfully together.  Each file is perfect on its on or paired with others to create your own masturbation experience.


Features: 
Induction - No, but there is some wording for relaxation
Multi voice track programming / Layered voice tracks
Cum Command:  No
Fetish:  chastity, orgasm control, erotic hypnosis, FemDom
12 Minutes


CREATE YOUR OWN HYPNO MASTURBATION EXPERIENCE

Either stack the loops in an order of your choice OR create a Loop playlist and hit random baby!

Possible ways to use a playlist:

Put all the loops in a playlist roll the dice (1). Whatever # you get is the # of loops that you will listen to. If you get 1, then roll again to see how many time you will listen to that 1 loop. If you get 3, then you will only listen to the first 3 loops that play at random. Will an orgasm be part of it? Or will you end the game with blue balls?
Create a play list where you duplicate the titles. You might have The Edging Loop or one of the arousal building loops in there multiple times so that it comes up more than once.
PERSONAL NOTE (only visible to you)
You must
Log in / Sign up