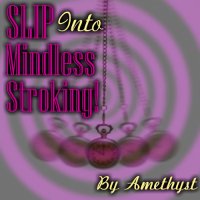 OFFICIAL SYNOPSIS
Erotic hypnosis for mindless stroking under the control of Mistress Amethyst. FemDom hypnosis using imagery of swaying pocket watch, JOI guided masturbation

This FemDom mindless JOI (Jerk Off Instruction) file is all about entertaining Mistress Amethyst.

I love when my boys can fulfill a kink for me!  If you buy this recording and comply with the instructions exactly as I say, you will be fulfilling my kink, and that excites the hell out of me!!

In SLIP Into Mindless Stroking, I call for you because I'm in the mood for some erotic entertainment.  I guide you into a wonderful state of mindless trance for the purpose of giving you some sexy tasks.  All of these tasks have something to do with an expressionless face, hazy gaze at a swinging pocket watch, masturbation instructions, and a mindless orgasm command.
LET ME TELL YOU WHY I LOVE THIS FILE:
Blank stare
Expressionless face
Obedient stroking
Gazing upon my pocket watch as I swing it back….. & forth
Mindless hazy-eyed orgasm upon my command

Just typing out this description gets Mistress aroused.  Mmmm Yummy.  I love an obedient mindless boy who drops into a zombie-like state during masturbation, that even an orgasm can't break him from his fixed, mesmerized gaze.

If you purchase this file, you absolutely must e-mail me and tell me what a good mindless boy you were while listening to this file.  It will certainly excite me very much!

For best results, please listen to my FREE file:  SLIP Into Mindlessness

Features: 10-1 Countdown during induction, SLIP Trigger, multi voice track programming.  Count up at the end.
PERSONAL NOTE (only visible to you)
You must
Log in / Sign up