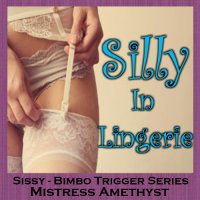 OFFICIAL SYNOPSIS
A very silly sissy, such as yourself, LOVES to wear lingerie! Now just slip deep under the hypnotic control of Mistress Amethyst for a giggly good time.

Every Silly Sissy Wants To Look As Sexy As Possible

A very silly sissy, such as yourself, LOVES to wear lingerie, isn't that right?  Mmm, yes!

Whether you're wearing panties, stockings, garters, corset, slip, bra, or baby doll nighties, you just love the way you feel.  When you surrender your mind over to my control, that love for lingerie turns into a silly, giggly, horny craving!  The pleasure of wearing lingerie is just so intense.

I'm sure you will be so excited when you slide them on that you'd just start giggling wouldn't you?  I know a silly bimbo like you always giggles in their lingerie.  It's probably second nature for you isn't it.  Mmm Yes!

Now, go be a good silly bimbo and download this file, so that you can turn into my very special giggling sissy in pretty lingerie.  I will be so pleased.  xoxo

Features: 

Silly Trigger
Multi voice track programming / Layered voice tracks
10-1 Countdown
Very soft sporadic giggle tracks in the background
Delta brainwave tones
Awakening:  Full count up
Cum Command:  No
34 Minutes
For BEST results, please listen to my FREE file:  Insatiably Silly


FemDom Erotic Bimbofication & Sissification hypnosis by Mistress Amethyst to render you mindless under her control.
PERSONAL NOTE (only visible to you)
You must
Log in / Sign up