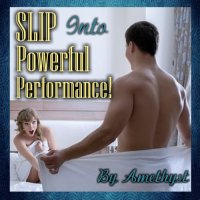 OFFICIAL SYNOPSIS
A FemDom Hypnosis approach using Cell Command Therapy (TM), layered programming, seductive voice tracks by Mistress Amethyst for rock hard erections.

This FemDom hypnosis file is a fun and sexy way to start having powerful erections.  I know you want to have a nice hard cock for me, don't you?  Yesss of course you do!

The file begins with a nice deep induction into hypnosis using the SLIP trigger.  Once you are in a nice mindless and receptive state, layered voice tracks are used to condition your mind.

One voice track focuses on repetitions, which you will find helpful for:

Remaining positive and calm during sex
Feeling confident and sexy
Focusing on pleasure as you become more & more pleasure sensitive
Rock hard erections
Powerful endurance.


A second voice track will be very quietly commanding your mind using Cell Command Therapy (TM).  Cell Command Therapy (TM) is a registered trademarked form of hypnotherapy and is only available through certified specialists.  To read more, please see my blog.   The Endocrine, Circulatory, Muscular, and Nervous Systems will receive commands for proper functioning, as well as the pituitary gland.  If you are having issues with impotence, I highly recommend the releasing file General Cell Release.

A third, sexy voice track will speak to that erotic place within your mind, encouraging that cock to become rock hard and powerful.  Oh how I love a hard cock!

For best results, please listen to my FREE file:  SLIP Into Mindlessness

Features:  SLIP Trigger, multi voice track programming, layered voice tracks, Delta brainwaves, Cell Command Therapy (TM) Count up at the end.
PERSONAL NOTE (only visible to you)
You must
Log in / Sign up