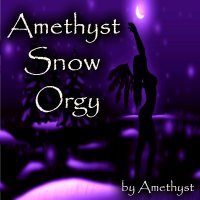 OFFICIAL SYNOPSIS
Amethyst appears in the snow before you & replicates herself by 6. The 6 Goddesses use your snow-bound body for pleasure in this erotic hypnosis orgy.


Get ready for the mind orgy of a lifetime! This one is a wild ride!

A purple snow in the forest, turns into a binding gel, with a life of it's own. Goddess Amethyst appears before you, and demonstrates Her abilities by replicate Herself. First there are 2… then 4… then 6 replications of your Goddess. She uses your body in various ways to multiple Her pleasure times 6!! Pleasure Overload….. especially when your Goddess reaches climax. Once She is satisfied, now its Her turn to watch as the gel continues to bind you… and bring You to climax.

You may never be the same afterwards

Features: Multiple Voice Tracks; Isochronic Tones; Gender Specific for Men; Might be considered "Hypno Porn".
PERSONAL NOTE (only visible to you)
You must
Log in / Sign up