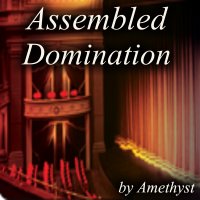 OFFICIAL SYNOPSIS
A little bit hypnotic fantasy, a little bit FemDom hypnotic programming.

You have been accepted to take part in a special all-male focus group, to review an up and coming documentary feature. However, when you arrive at the movie premier, it's not quite what you expected. Two HypnoDomme's take over the theater and program the men according to their goals: Female Domination! Recorded by Amethyst and Celeste, together for the first time!

Features: Deep brainwave technology, guided relaxation, double voice hypnotic programming, left/right ear effects, and hypnotic programming from Amethyst & Celeste.
PERSONAL NOTE (only visible to you)
You must
Log in / Sign up