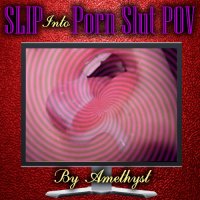 OFFICIAL SYNOPSIS
Erotic & Femdom hypnosis to feel what it's like to be a porn slut. Drop deep into erotic trance and have your mind programmed to think porn is a mirror

I know you've been wishing that you could know what it's like to be a porn slut, haven't you?  Oh yes, I know!  Well, now you can!

Get ready to become slutty!  With this file, I drop you down into a mindless state of trance, and begin to program your mind to look at porn in a new way!  In fact, it won't it seem like porn at all anymore – it will be a reflection of you!

Oh my, you are so slutty, aren't you?  As you begin to play porn on any device of yours, your mind believes that it's actually a mirror and you're gazing into your reflection.  You will begin to taste, feel, smell, and think like the slut in the reflection.
You feel those massive cocks filling your mouth!
You taste their cum and feel it run down your throat
You feel cum being sprayed on your face
You feel your pussy being stretched and pounded deep by so many swollen cocks.

Oh how you love to be a porn slut.  The more cocks you take, the more pleasure you feel.  The taste of cum filling your mouth has never been so pleasant.  In fact, you're so slutty that you could drink hundreds of cocks.

For best results, please listen to my FREE file:  SLIP Into Mindlessness

Features:  SLIP Trigger, multi voice track programming, layered voice tracks, Delta brainwaves, Count up at the end with permission to ignore the count up if you're ready for sleep.
PERSONAL NOTE (only visible to you)
You must
Log in / Sign up