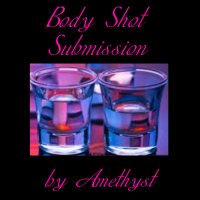 OFFICIAL SYNOPSIS
Find out what happens when Amethyst has you taking shots from Her belly


You don't know it yet, but you are about to be taken by Goddess Amethyst. You're sitting a the bar at a nightclub, when you hear the call of your siren. Obediently, you follow Her into a private room. Awaiting you is your Goddess, who mesmerizes you with Her swaying hips. Body shots of a bewitching cocktail are consumed from her navel, giving you auditory hallucinations. Her words are programming you to be a good submissive. You can't help but Obey! By the time you leave, you know exactly what it will take to please your Goddess, and you can't wait to get started!

Features: Multiple Voice Tracks; 10-1 Countdown, Isochronic Tones; Gender Specific for men.
PERSONAL NOTE (only visible to you)
You must
Log in / Sign up