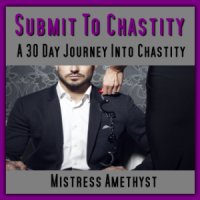 OFFICIAL SYNOPSIS
SUBMIT To Chastity – A 30 Day Journey

The most erotic time of your life is about to begin…

You may not realize this consciously, but my 30 Day Chastity Journey is exactly what you need!

The 30 Day Chastity Journey includes:

A 32 minute deep programing hypnosis audio for conditioning, reinforcement & support. Details on the audio are below
Daily e-mails containing task(s), suggested audio… sometimes a taunt… a tease… a challenge, but always encouragement.
Optional Add-On's (Use the Personalize Tab):

Add a Skype session to break your chastity at the end of 30 days. We'll have a private call together, where I will guide you into trance and have you stroke to an explosive orgasm. It will be a wonderful celebration!
Personalize the hypnosis MP3 for the effects to be even greater on your mind!
A Journey with me is a very intimate experience. I'm basically going to be spending the next 30 days with you. The tasks are pre-written, hence the affordable price, but there will definitely be interaction between the two of us!

To begin the Journey, I will need the following:

Purchase the Journey through the "Personalize Tab" using the "Add To Cart" button within the body of the personalize page. (NOT at the top near the short description)
Send me: your requested start date (A Monday, preferably), Time Zone, E-mail address. There will be a comment section if you add any optional features. Otherwise, please add this information to the notes section when you proceed to check out.
Hypnosis MP3 Description

The Hypnosis audio includes deep conditioning to remain in chastity and obey my tasks. I will be triggering you with the SUBMIT (Snap) trigger, to have you helpless, submissive, and eager to obey.

I will be placing a hypnotic cock cage on you to keep your sexuality all locked up, nice and snug. During the next 30 days, you are going to be completely controlled, and I'm going to love every minute of it!

Features:

Multi voice track programming / Layered voice tracks
Delta Brainwaves
SUBMIT (snap) trigger
Audience: Male
Humiliation: No
32 Minutes
Pricing: $30 for Hypnosis Audio + $2 a day for each e-mailed task.
For best results, please listen to the trigger training file SUBMIT!
PERSONAL NOTE (only visible to you)
You must
Log in / Sign up