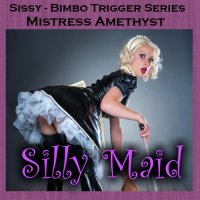 OFFICIAL SYNOPSIS
A very silly sissy, such as yourself, gets so horny when you dress & act the part of a Silly Maid for Mistress Amethyst. FemDom Brainwashing; maid fetish

When you dress the part and act the part, it makes you so horny

You've crave this feeling of mindless submission, but you've always wanted something else too.  The same part of you that needs a way to show your submission and be truly controlled.

Listen to me my sweet sissy maid, whenever you wear your uniform and clean, it will make your sexy little clitty so hot!  The pleasure you'll feel serving me will consume you, and you won't even realize you're working.  The more you serve me and the more you obey me, the more intense the pleasure will become.

A silly bimbo like you won't be able to help yourself!  You'll become addicted to wearing your uniform and working for me, that everything you do in your uniform will flood that clitty with heat and desire.  It won't just be the sensation of your frilly panties and your stockings on your skin - it's more than that - stronger than that!  The pleasure will come from your complete and total obedience to me!

Features: 

Silly Trigger
Multi voice track programming / Layered voice tracks
10-1 Countdown
Delta brainwave tones
Awakening:  Full count up
Cum Command:  No
33 Minutes
For BEST results, please listen to my FREE file:  Insatiably Silly

FemDom Erotic Bimbofication & Sissification hypnosis by Mistress Amethyst to render you mindless under her control.
PERSONAL NOTE (only visible to you)
You must
Log in / Sign up