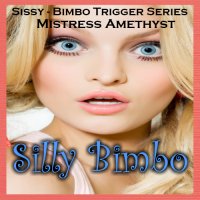 OFFICIAL SYNOPSIS
It's so good to be so silly and vacant for me. No need to think, just sink & surrender. This Bimbofication & Sissification Hypnosis excites your clitty.

No Need To Think!  Just Sink & Surrender

It turns you on to be so blank and ditzy, doesn't it, my Silly Bimbo!  Mmm Yess

It's so hard to come up with all those ideas and keep track of things.  It feels good to be vacant and blank for me.  Feeling this silly makes you feel good, and being a bimbo is so natural and easy, isn't it?  Mmm Yes!

Whenever you hear me say the words "Silly Bimbo", you will feel this pleasure swallow you up!  You're such a sweet giggly sissy and such an empty airhead.  You're so blank but that's okay... your body knows how to respond.  Your body is programmed to feel this way.

As you listen to my voice, your Silly clitty will become so very aroused.  By the time this recoding has finished, you'll need to rub that Silly clitty, because you're such a horny bimbo.  Lucky for you, I will send you on your way to go pleasure that clitty.  Mmmm it's soooo good to obey your Mistress Amethyst

Features: 

Silly Trigger
Multi voice track programming / Layered voice tracks
Very soft sporadic giggle sound effect & moaning in the background
Delta brainwave tones
Awakening - Yes, but subtle - no count up, just verbiage to float up & out of trance
Cum Command:  Yes - Post hypnotic JOI Command
27 Minutes
For BEST results, please listen to my FREE file:  Insatiably Silly


FemDom Erotic Bimbofication & Sissification hypnosis by Mistress Amethyst to render you mindless under her control.
PERSONAL NOTE (only visible to you)
You must
Log in / Sign up