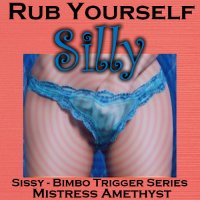 OFFICIAL SYNOPSIS
Everything feels better when you're a Silly sissy for hypnotic Mistress Amethyst. Sissification and bimbofication hypnosis using the Silly trigger. JOI

Silly Bimbos Only Feel Pleasure

So much of your day is spent pretending to be something else;  pretending to be in charge; pretending to be a thinker; pretending to climb the corporate ladder.  Isn't that right?

With Mistress Amethyst, you can let all of that go, and truly be yourself.  Deep down, you're just a Silly sissy, desperate to be controlled.

Going into trance and being a Silly sissy feels so good.  Even playing with yourself feels better the way I tell you to do it.  I'm going to show you where that special spot on your clitty is located - that spot that feels like magic when you rub it.  Mmmm yes!

I want you to just rub yourself silly.  Mmmm Yes, that's right, rub yourself silly.  Tease that special spot and feel how your body responds.

Features: 

Silly Trigger
Multi voice track programming / Layered voice tracks
10-1 Countdowns & confusion countdowns
Very soft sporadic moaning in the background
Delta brainwave tones
Awakening:  Post hypnotic suggestion that you will emerge from trance when you orgasm
Cum Command:  Yes - Post hypnotic JOI Command
27 Minutes
For BEST results, please listen to my FREE file:  Insatiably Silly

FemDom Erotic Bimbofication & Sissification hypnosis by Mistress Amethyst to render you mindless under her control.
PERSONAL NOTE (only visible to you)
You must
Log in / Sign up