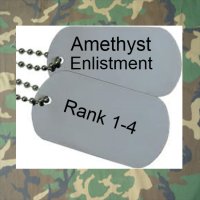 OFFICIAL SYNOPSIS
Enlist in Amethyst's Army… but to make rank, you have some tasks to perform. Are you up to the challenge?

Amethyst Enlistment: You want to be a slave in my army, but do you have what it takes?

In this recording, we will go through 4 Ranks.

Rank 1) You must completely submit to my hypnotics spell.

Rank 2) I will inspect your body physically to see if it meets my criteria.

Rank 3) I will introduce you to my Strap-on.

Rank 4) You will worship my sex with your slave tongue.

Features: BDSM (spanking), Strap-on submission, Isochronic tones, Gender Specific for men.
PERSONAL NOTE (only visible to you)
You must
Log in / Sign up