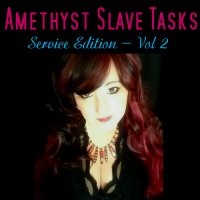 OFFICIAL SYNOPSIS
Download the tasks, Hit Random/Play, & Let the fun begin!

Get ready to explore femdom instructions, to serve Mistress Amethyst in a really fun and creative way!

Imagine it…. All of your tasks have been downloaded into a playlist on your MP3 player. Each day you open up the playlist, hit random/play, and listen to your Mistress giving you the details of what you are required to do today.

I want you to follow the instructions to the absolute best of your ability. Not only will you have fun, but it's also an exercise in obedience. I want you to be a very good boy for me.

These service related tasks will require a little bit of creativity and/or social media promotion. It would be helpful if you follow me on twitter @Amethyst_Hypno. Service to me is critical in our FemDom relationship, so I highly recommend that you add this to your task playlist.

This is NOT a hypnosis product, however, each task is recorded as a separate MP3.

Recommendation:

Purchase more that one volume as well as different categories. The more tasks that you own, the bigger the variety of masturbation control that you'll experience.
Add ALL of your purchased task MP3's into 1 playlist on your MP3 player
Each day, open up your playlist and hit random/play
Features:

Task recorded without music or effects.
Audience: Male
Includes 5 unique tasks
PLEASE NOTE: The service category shoes each file as being 1.41 min, but this is incorrect. Most tasks in this series are about 1 min, and some are less.
PERSONAL NOTE (only visible to you)
You must
Log in / Sign up