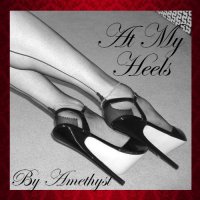 OFFICIAL SYNOPSIS
Erotic foot fetish hypnosis for mindless foot worship. Erotic Femdom hypnosis where you become the mindless foot slave of Mistress Amethyst; Erotic hypnosis


This FemDom mindless foot fetish file, At My Heels, continues the theme of entertaining Mistress Amethyst with your mindless obedience.

Whether foot worship is your fetish or not, it really doesn't matter. What truly matters is how obedient you will be in order to please me. I'm in the mood to have my feet worshiped. I have decided to further your mindless training by turning you into my foot slave.

You become easily entranced by my swinging foot, dangling above your face as it sways back & forth…… back & forth. Right when I have you in a nice state of trance, the SLIP trigger is used to my advantage to make you nice and mindless for me. Now it's time to play!

You find yourself undressing my feet, sucking my toes, and using your tongue to lick between my toes. The more you lick, the less you think. Yes, my boy, the more you lick, the less you think. You're so very mindless. Eventually, I have you humping away at my feet in a mindless frenzy. You are my foot slave, boy!

Oh how I LOVE the mindless, horny actions of a hypnotized boy!

For best results, please listen to my FREE file: SLIP Into Mindlessness

Features: Foot swinging induction, 10-1 Countdown during induction, SLIP Trigger, multi voice track programming, fantasy foot fetish hypnosis, foot worship, masturbation instructions with feet. Count up at the end.
PERSONAL NOTE (only visible to you)
You must
Log in / Sign up